The Ohio Pathways Rotary Club is proud to sponsor four students for the Guatemala Rise Youth Development Scholarships.
Student Summary
Name: Jessica P.

Community: Xenacoj

Grade: 7th
A Message from Your Rise Student

Original Message in Spanish
English Translation
De: Jessica P. Para: Friends at Ohio Pathways Rotary Club Querido Patrocinadores: Espero se encuentre muy bien, por medio de la presente quiero agradecerle el apoyo que ha brindado y a la vez contarle un poco sobre mi familia. Mi madre es ama de casa, tengo 3 hermanas y 1 hermano, Aura, Iris, Janeth y Arael, mi madre es Silvia. ¡Este año estoy estudiando primero básico! Y le agradezco bastante por ayudarme a seguir estudiando. ¡Le cuento que en mis tiempos libres me pongo a leer, dibujar y práctico reportes! Nuevamente le agradezco por qué sé que con su apoyo lograré mis sueños, por ejemplo, unos de mis sueños es ser Psicóloga, para poder ayudar a muchas personas a que mejoren su salud. Me alegra poder compartir esto con usted
From: Jessica P. To: Friends at Ohio Pathways Rotary Club Dear sponsors, I hope you are feeling very well. I want to thank you for the support you have provided and at the same time tell you a little about my family. My mother is a homemaker, I have 3 sisters and 1 brother – Aura, Iris, Janeth and Arael. My mother is Silvia. This year I am studying 7th grade! And I thank you very much for helping me to continue studying. I tell you that in my free time I read, draw and do reports! Again I thank you, because I know that with your support, I will achieve my dreams. For example, one of my dreams is to be a Psychologist, to be able to help many people to improve their health. Glad I can share this with you.
Student Summary
Name: Claudia D.

Community: Xenacoj

Grade: 7th
A Message from Your Rise Student

Original Message in Spanish
English Translation
De: Claudia D. Para: Ohio Pathways Rotary Club Querido patrocinador, Esperando que se encuentre muy bien de salud me dirijo a usted; Quiero expresar nuestra profunda gratitud de parte mía y de mi familia por su apoyo para yo poder continuar con mis estudios y poder tener un futuro dignó, agradezco su generosidad y tiempo. Gracias a su apoyo muchas personas como yo hemos sido beneficiadas para así poder continuar con nuestra educación y poder tener un lugar en la sociedad. Mi mamá se dedica a realizar tejidos, tengo tres hermanos, mi hermana realiza tejidos igual que mi mamá, mi hermano elabora sillas con algunos materiales que logra conseguir, yo también se tejer y en ocasiones realizo fajas o le ayudo a mi mamá a arreglar el hilo para que pueda tejer, tengo un hermano pequeño que cuido cuando mi mamá está tejiendo. Me despido agradeciéndole nuevamente por su apoyo.
From: Claudia D. To: Ohio Pathways Rotary Club Dear sponsor, I am writing to you, hoping that you are in good health. On behalf of my family and myself, I want to express our deep gratitude for your support so that I can continue with my studies and have a dignified future. I appreciate your generosity and time. Thanks to your support, many people like me have been benefited so that we can continue with our education and have a place in society. My mother works making fabrics. I have three siblings. My sister makes fabrics like my mother. My brother makes chairs with some materials that he manages to get. I also knit and sometimes I make girdles or I help my mother to fix the yarn so that I can knit. I have a little brother that I take care of when my mom is knitting. I say goodbye, thanking you again for your support.

More About Nancy
Community: Xenacoj
Grade 6th
Birthday: March 31, 2008
Favorite Subject: Natural Sciences
Student Aspirations: Be a doctor
Biography
I am Nancy P., I am 13 years old, and I am studying 6th grade at the Escuela Nacional El Esfuerzo in Santo Domingo Xenacoj. My dream is to to become a doctor to help people. My favorite class is Natural Sciences because I can learn more about nature and I can also draw it and feel close to them. In my free time I like to help my mother with housework. My father works as a day laborer, he does not have a specific job because he could not study. He knows how to read and write, he learned little by little. My mother is a housewife, she does not work because she has suffered from arthritis for years.
Because of this, my older brother only studied until the 9th grade and could not continue with his studies. My brother works with my father to be able to generate a little more income so my 10-year-old brother and I can continue with our studies. My parents had told me that they can only support me until the 9th grade like my older brother, and then I will have to work if I want to continue with my studies or help at home, because it is not possible for my parents to give me studies. I want to improve myself and get ahead in order to help my family.
Student Aspirations
Graduate as an Accountant
Biography
My name is Luisa G. and I am originally from the municipality of Tecpán. I study at the Instituto Nacional Experimental de Tecpán. I am the second of three children. My father's name is Luis and he works as a driver. My mother's name is Sonia, she is a housewife, but she also sells catalog lotions to help my father with the household expenses. My father is originally from Suchitepéquez. For years we have lived in different rented places until a few years ago we came to live in Tecpán. My mother considers that renting has made it very difficult for us because we have not been able to adapt due to the constant changes. That is why my mother works hard so that they can buy their own place to live. My parents want us to study and prepare for the future so that we can have a place of our own to live. I want to study and graduate as an accountant, then study in college to be an architect. My favorite course is Mathematics and my favorite food is roast beef and stew. My favorite color is pink.
1 Sponsor a student today.
2 Help your new friend rise.
Thanks to you, your student's life will begin to change as they benefit from comprehensive support services in the Rise Program:
a full academic scholarship
psychologists, social workers, and mentors
workshops on topics like job skills and leadership
visits to businesses and universities
opportunities to serve in his or her community as a young leader
We'll keep you regularly updated on your student's progress, and you will also have the opportunity to exchange letters and photos with your student and even visit them in Guatemala! You'll experience the joy and pride of helping your student grow as you become part of each other's stories.
Guatemala's Western Highlands exhibit one of the most extreme combinations of systemic poverty, illiteracy, and inequality in the hemisphere. 3 out of 4 people live in poverty, and 1 in 3 cannot read or write.
Students face overwhelming obstacles to stay in school:
lack of financial resources
pressure to marry early
alcoholism or abuse in their homes
gang culture
lack of familial support
belief that education is not worth investing in
As a result, 95% of poor, rural students never graduate from high school.
You can help a student beat the odds by becoming a sponsor today.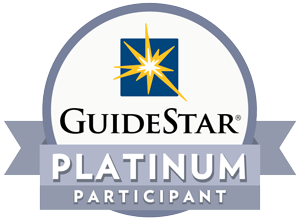 Guidestar
Cooperative for Education receives Guidestar's Platinum Seal of Transparency for our dedication to testing and proving the impact of your donations.